September 3, 2004
The House that Words Built
by Rochelle Riservato and Wavy Davy
BlueStone Press, Ulster County NY
Poet and great-grandson of Ralph Waldo Emerson, Alec Emerson took a most circuitous route to his current vocation. A self-described former "itinerant carpenter," he found the words, or the words found him, to bloom late as a poet and reader of his work.
Originally from New England, Alec finds inspiration by reflecting on times and places he has left, physically or chronologically. His work is powerful but not stuffy and his even tone allows his words to land easily on your ear. He lives in a house built by his own hands.
Where are you originally from?
I was born in Concord, MA and initially moved to the Hudson Valley in 1986 when I bought land in Accord. I had been a regular visitor of the area from 1982 to 1986, however my former wife taught in private schools and I followed her around for a while. I moved here permanently when I built our home in 1996.
What do you like best about the Hudson Valley?
I like the air and the people. Up until then I considered myself an itinerant carpenter. My home was my work. I worked around the country building houses and barns for friends in Montana and Colorado mainly. But, this was the first place I recognized as much as a person as a carpenter.
As a poet, does the beauty of the Valley inspire you more than other environments?
Not really, because my poetry refers to a landscape of people and spirit -- I actually travel out of this country in order to get perspective. When in the US, I ground myself by reading the life and works of Abraham Lincoln and Native Americans.
How do you define "landscape of people and spirit?"
It is a reference to the poetry that I have written. The first book that I wrote centered upon the death of my brother in Vietnam in '68. I wrote it two decades later, after attending a poetry workshop put on by Vietnam vets from whom I received both encouragement and a sense of family with the vets who attended and mentored. My first book, called Somber Reunion, was inspired from this workshop. Then I put poetry away for 12 years until 2000 - at that time is when I decided to write for at least ten more years.
[TOP]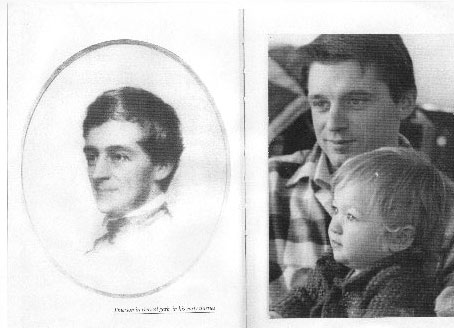 Ralph Waldo Emerson (left) in his 30's. Alec Emerson at 35 and young friend (right), 1982.
What have you done since your decision to write again?
I finished and published a book of 33 pieces called Connected Words. I've also recorded a CD, also called Connected Words, of both my books.
What other ways do you share your poetry?
In a way I am a "closet writer" that doesn't aggressively seek poetry performances. I am now being more active, on a learning curve so the speak, to join more public venues. I am doing this to show others what poetry actually is. This I take as a responsibility... especially because individual voices need to be heard for a democracy to function properly.
Do you have a favorite piece from your recent work?
Kind of... because it has an unusual compass for a tragic event. On the Saturday following 9/11, I was pacing around my cabin and wondering if it were impossible or arrogant or obscene to try to write about what I had witnessed on TV that Tuesday. Then a line came to me -- the line was "The ghosts of Wounded Knee welcome you"" ... that was all, but as I thought about the line and wondered what the ghosts were wearing and what they were doing, the rest of the poem emerged. I would like to read it to you:
World Trade Center

The ghosts of Wounded Knee
welcome you.
They are quiet and gentle.
No one has young eyes.

Their clothes are neatly patched,
their moccasins carefully repaired.
It happens to be their rotation as guides
in the museum of atrocity.

Last week it was Dresden's turn,
the week before, My Lai.
The week before, Tirana Square,
the week before, Nagasaki,
the week before, Guernica.

Next Tuesday, a small ceremony
will mark the opening of
the World Trade Center.

The ghosts of Wounded Knee
welcome you.
Emerson ended the interview with:
And... I'd like to leave you with a word from Nepal,
"Namaste" which means I salute the great spirit within you.